ROMANTIC CANDLELIGHT - ooh la la!!

And the days keep moving right along!!!
I'm so happy you have joined me for day two on: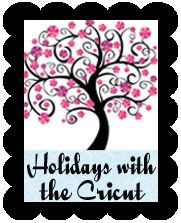 In keeping with the Valentine theme while creating this project, I was thinking of ROMANCE- plain and simple :)
I can't think of anything more romantic than having a quiet Valentine dinner with your loved ones, the lights turned down low......warm candle light dancing along the walls, flickering over the table and gently lighting everyones faces.
I didn't want to put just any old pain glass candle holders on my table this year for Valentines day.....so I got out my ETCHING CREAM, a FOAM BRUSH, some VINYL and my oh so handy GYPSY - and I set to work designing my custom Valentine Candle holders.
To get started on this project you will need to determine the WIDTH of your project. To do this you need to measure the CIRCUMFERENCE of the glass using a ribbon wrapped around the base. Wrap it around the base, make a mark or cut it, and lay it flat along a ruler. Now take the same ruler and measure how tall the glass container is as well. Write those dimensions down on a scrap paper so you can refer to those later and make sure you stay within those limits. My overall measurements of my project ended being: 11.40"W x 4.90"H.
Once I had my measurements I took a look on the Wild Card and Gypsy Wanderings carts and pulled out some very lovely, very romantic images.
After arranging everything so all of my items that I wanted to weld were overlapping a little bit, I GROUPED THEM, and then welded them all together so it looks something like this (welded images are in RED, ungrouped and unwelded items are in BLACK):
Page 1:
Page 2:
Once you have your image designed it's time to get your cricut set up to cut vinyl. What seems to be the most popular setting to cut vinyl is: BLADE-3, PRESSURE-MEDIUM, SPEED-MEDIUM. I used the exact same settings as well to cut my vinyl for this project.
After your design has been cut out you will need to WEED OUT all of the pieces you don't want to be on your etching. This can take some time and I recommend using that green little 'dentist looking' tool that comes with the cricut tool kit, but there are tons of household items you could use instead.
And here is the vinyl after removing all excess pieces:
For this project I absolutely had to use TRANSFER TAPE. Just peel it away from it's backing and lay it over the vinyl while it's still on your cutting mat. Rub it with a popsicle stick and lift the transfer tape away. The tape will pick up your vinyl keeping it safe until you are ready to apply it to your surface.
With the transfer tape removed:
After removing the transfer tape you will find there are air bubbles and wrinkles. Use a flat object or your finger nail to smooth them towards the outer edges. Once everything has been firmly smoothed down and there is no vinyl sticking up, you are ready for etching. I love using foam brushes on large surfaces like this, the handles are long and they apply the etching cream much more evenly than using a popsicle stick. I put a very heavy coating on each glass and let it sit for 25 MINUTES. When you are ready to wash it off you can scrape off any of the excess cream and put it right back in the bottle. Wash with soap and water and dry them to a shine :)
I added some votive holders with tealights inside each one. Taking some rose petals that can be bought in the wedding section at M's, I placed these around the votive holders inside the glass. Sprinkle some more rose petals around the table top- heck go ahead and sprinkle some rhinestones for a little sparkle too!
Now your table is ready for that quiet Valentine dinner- get out your favourite dishes, set the table and turn the lights down low..........
And there you have it - My project for Home Decor Tuesday!!!!
Now that I have the first day under my belt, my nerves have subsided and I am feeling much better! I am truly humbled at having over 200 downloads of my Simple Card Monday file yesterday....you all are just so wonderful!! Lets not forget to mention how stunned I was today to see such a large numbers of comments on the
Holidays with the Cricut Blog
. Taking a look at that after a long day at work today really warmed my heart - thank you so much!!
I also just wanted to mention that all of my files can be changed from 12x12 to 12x24 or vice versa. After you have downloaded the file and have it open on your Gypsy, just push on the silver button on the right. There will be an icon that says: Change Mat Size. Touch that and select your mat. A word of CAUTION: if you are going to a smaller mat you will need to add more pages as there simply won't be enough room for all the images :) So even if you don't have the 12x24 mat you can still download and use these files! :) :)
If you have any questions just leave me a comment and a way to contact you, I will be sure to get back to you :)
Thanks you so much for joining me on another awesome day at
Holidays with the Cricut